TraffiGlove
TraffiGlove partnered with Web Results in order to receive expert consultancy throughout the design and development process of their new, responsive website. The objective of the campaign was to ensure TraffiGlove retained and grew their organic reach post-launch.

95% Increase in Organic Search Enquiries
Download PDF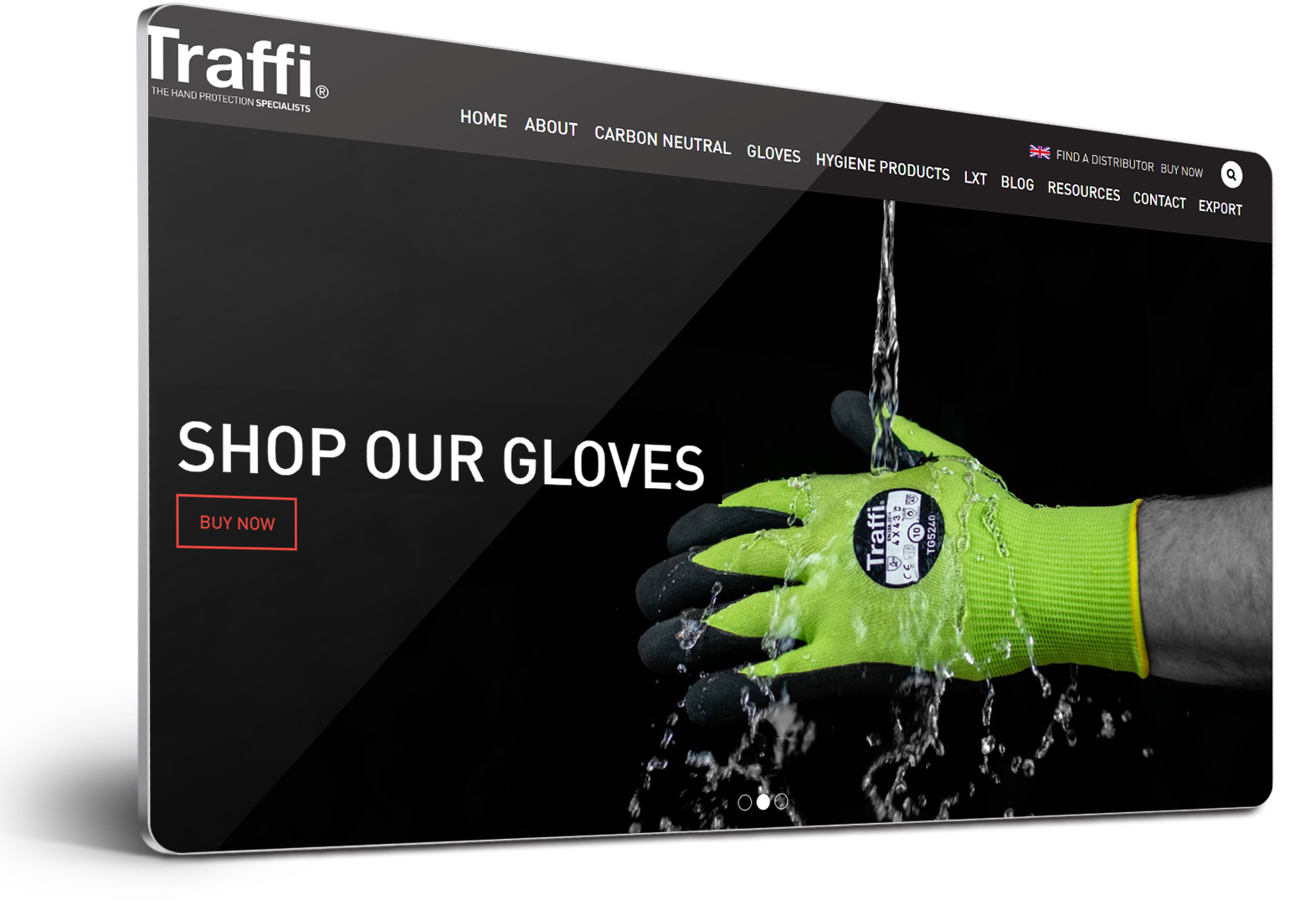 Who are they?
Established in 2008 and based in Berkshire, TraffiGlove is an industry leading designer and manufacturer of PPE safety gloves. Responsible for inventing the original colour-coded traffic light system that shows you the cut protection level of your gloves at a glance, its innovative and proven hand protection system is reducing hand accidents and saving costs across a range of industries around the world.
What Were Their Objectives?
At the beginning of our partnership, TraffiGlove was in the process of launching a new mobile responsive website. The new site was a complete overhaul, with fresh content and a new site structure.
As any major site relaunch can negatively impact organic search traffic if not carried out according to SEO best practice, we needed to ensure that the organisation did not lose any of the strong organic rankings that the site benefited from, and that organic search traffic continued to build following the new site launch.

95% Increase in Organic Search Enquiries

40% Increase in Organic Traffic

39% Increase in Organic Conversion Rate
What Did We Do?
We provided detailed technical SEO consultancy and site launch support to TraffiGlove and its designers throughout the site build project in order to ensure no authority was lost (in the eyes of the search engines) as a result of the new site launch.
In addition, the on-page elements of the new site were fully optimised for search engines and all the technical SEO elements were fully managed and implemented in order to ensure that the new site performed to its full potential post-launch.
What Were The Results?
Instead of the potential drops in organic search traffic that can often be seen following site relaunches, we saw organic search traffic increase by 40% in the four months following the launch. This strong organic performance was further reinforced by a corresponding increase of 95% in the number of organic goal completions and a 39% increase in the organic traffic conversion rates.
---
What Our Clients Say
"Over the last couple of years, Web Results Direct have increasingly become invaluable in implementing a multi-national, multi-company digital transformation. Initially contracted to assist with SEO and develop an additional website to cover a growing product offering. Now
WRD are an integral part of global campaigning, providing advice at all points from planning through implementation to analysis
. Most recently, developing and managing multiple paid advertising campaigns, in over 10 languages, across a variety of platforms and providing us with ongoing analysis in order to get the most out of our efforts. We view the team at WRD as an extension of our own"
"Working with you all has been a great experience and we've learned so much.
Together we grew our UK business and demonstrated to the Group enough confidence for them to authorise a significant acquisition
- this is a huge achievement and your part in this should not be under stated"
"We hired Web Results Direct initially to look after SEO for our website, and at the end of the first year,
we celebrated our best year ever for web sales
. We then gave them responsibility for our PPC campaigns – a tall order given the high targets we needed to achieve. However, they not only hit the target, but exceeded it, delivering a 38% increase in average ROI for the year."
"I'm writing to tell you how pleased I am with the service you're giving UPS Systems PLC. When you first pushed up our PPC results, we were pleased. We were even happier when you saw a couple of opportunities for us to improve them. So much happier, in fact, that we gave you responsibility for our organic search optimisation too. That also improved substantially, and you've recently made suggestions based on more new opportunities which are paying off again. Your quarterly reports aren't just regurgitated screenshots but show you've thought carefully about our visitor results before mailing us.
You unfailingly make a follow-up call to check that your perceptions make sense to us and that we understand the changing web marketing landscape.
I was pleased to be able to recommend your services to an acquaintance recently. I told her that WRD is our most professionally run services supplier. That's not just my view – it's the view of our whole senior management team. Please keep up the good work!"
"I've worked with Web Results Direct now for some 12 years and
they have been nothing but exemplary the whole time!
My brief for our internet marketing partner is quite straight forward. I require a company that works efficiently and ethically for the long term gain and that breaks all the jargon surrounding it into layman's terms with clear and concise reporting. Web Results Direct fulfill this brief perfectly! "
"We had an opportunity from a website enquiry confirm yesterday - worth £xxK. We've no doubt that
this is down to your management and refinement of our SEO and PPC
. Thank you!"
"I have to say, you guys have done an
amazing job with our SEO
. We are very satisfied with all your work. It's so refreshing working with an agency that totally understand what we do."