Fujifilm EU
Web Results (WRD) was retained by Fujifilm EU to support the European Graphics Systems Division with its cross channel digital marketing activities, with the primary focus of activity being the generation of an improved prospect pipeline and increased revenue and sales for the Graphics Division across all European territories.

63% Increase in Organic Traffic
Download PDF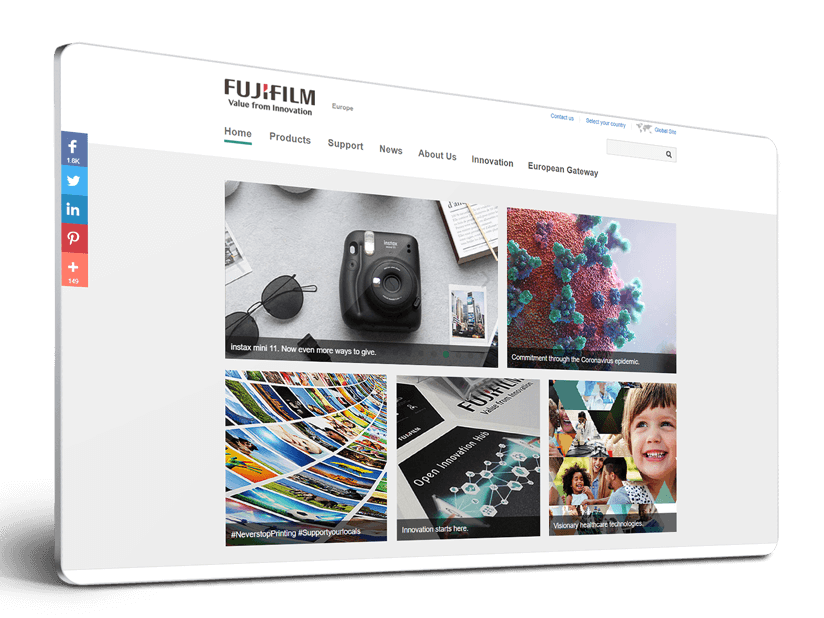 Background
Fujifilm Graphics Systems had, prior to engaging with WRD, invested very heavily in the digital market with the aim of generating higher volumes of sales across Europe via another supplier.
Investments included highly significant budgets allocated to paid advertising, web design and development, SEO and digital consulting. Unfortunately, results over the previous two years had been very poor and there had been no increase in lead volumes and no sales attributed to any of the above activities.
As a result, Fujifilm EU engaged with WRD in order to revitalise its digital marketing activity, improve the quality of the campaigns and focus on driving growth and sales.
WRD's role is to provide Fujifilm with creative campaign design and support, SEO, PPC, Remarketing, social media advertising, banner advertising, reporting, tracking, CRO, design/creative assets creation and digital consulting.

63% Increase in Organic Traffic

13% Increase in Goal Conversion Rate

55% of Total Traffic from Organic Search

Average Conversion Rate of 2.69%
Approach
WRD immediately undertook a range of activities in order to provide a solid foundation for the digital campaign activity.
Analytics Optimisation, Tracking & Data
The Google Analytics system was audited and optimised, detailed goal tracking was implemented in Analytics in order to ensure the data provided the business with valuable, and accurate, marketing intelligence and user data.
The traffic to the site was filtered by IP in order to ensure that internal WRD, or Fujifilm, traffic was ignored and the Google Analytics and Ads accounts were connected so that data could flow between them in order to aid the decision making and campaign evaluation/optimisation process.
Over the last couple of years, Web Results Direct have increasingly become invaluable in implementing a multi-national, multi-company digital transformation. Initially contracted to assist with SEO and develop an additional website to cover a growing product offering. Now WRD are an integral part of global campaigning, providing advice at all points from planning through implementation to analysis.
Sara Carter
Web Design, Web Development and Optimisation
The Fujifilm Graphics Systems showcase website, www.powerofinkjet.com, was historically used as the primary destination for all European marketing campaign traffic (search, email marketing, print, PPC & social) however, the site was very slow, unresponsive, was not mobile friendly and performed very poorly in the search engines. WRD rebuilt the website from the ground up, significantly improving its speed, its mobile usability and focussed on considerably improving its performance in terms of user experience and conversion rates.
The site was fully optimised for search engines focussing on rankings for highly relevant search terms that indicated the user had a transactional intent (e.g. they were not simply looking for images of printers, generic information on inkjets or home printers, but were actively engaged in the research/purchase phase of their search journey and were specifically looking for relevant products).
As a result, organic search rankings for target terms improved significantly, organic traffic levels increased (and continue to grow) and engagement rates from search visitors were significantly enhanced (more time on site, more pages per visit, increased downloads, increased enquiry form completions etc.).
The site now performs a critical and effective role in Fujifilm marketing campaigns and also acts as a valuable resource to the commercial inkjet printing industry, whilst feeding valuable data into the Fujifilm CRM systems and generating highly valuable leads and enquiries for the business.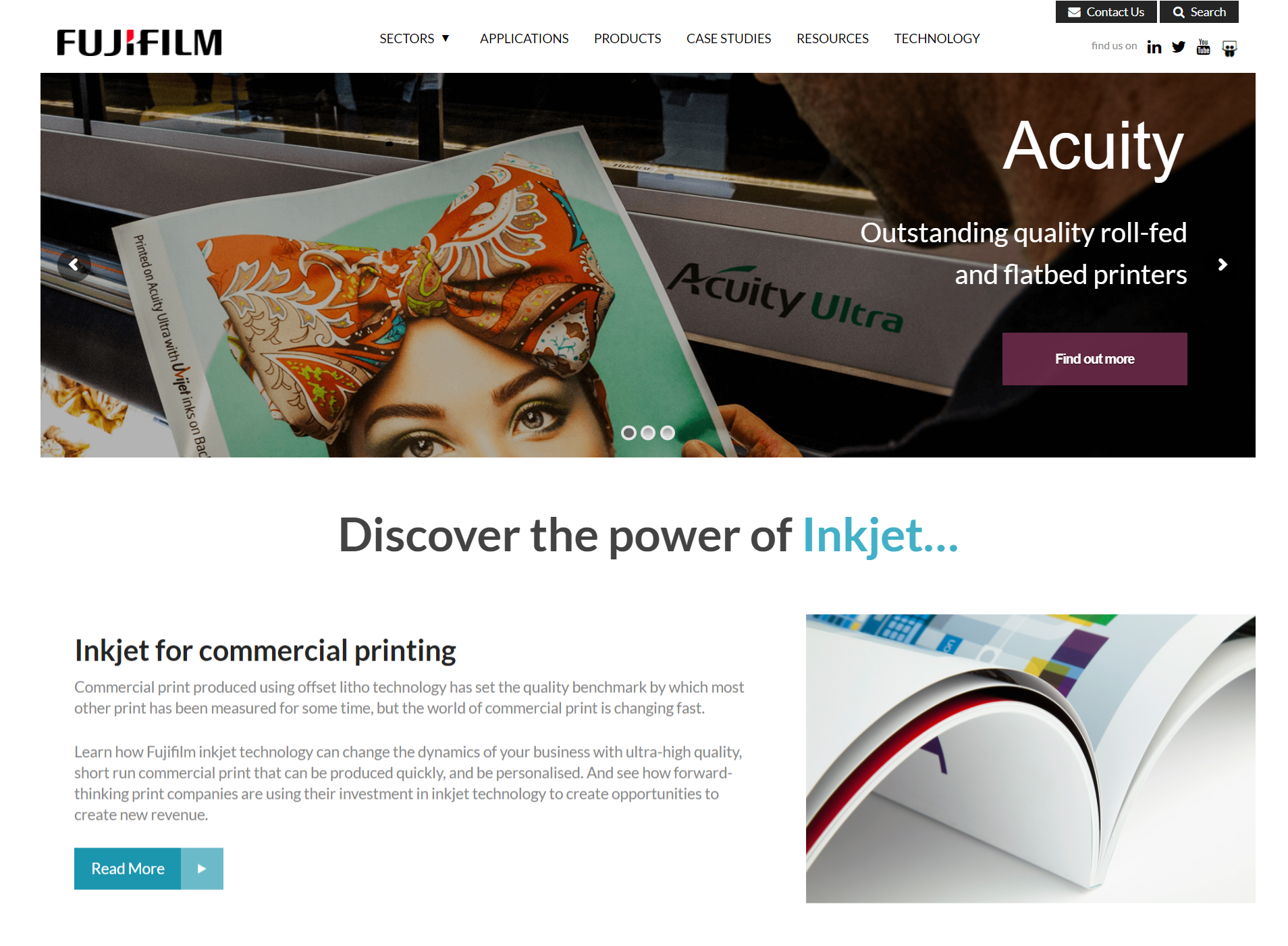 European Strategic Campaign Planning, Consultancy & Execution
WRD provides Fujifilm with consultancy, advice, strategy and planning across all of its European digital activity and helps to shape and develop the approach and efficiency of the digital marketing campaigns and activity.
WRD hosts a number of Fujifilm web properties, manages domain names for campaign landing pages, maintains its web properties (including websites and landing pages) and provides CRO and search engine optimisation across all product landing pages.
WRD also works on the core Fujifilm European website (https://www.fujifilm.eu) providing optimisation, CRO, user experience, campaign planning and sales funnel consultancy in order to optimise the entire width and breadth of the Fujifilm EU Graphics Systems digital activity.
Utilising this approach, Fujifilm are now employing a much more effective and consolidated approach to digital marketing, rather than the piecemeal approach it had employed historically.
Paid Advertising
The Google Ads PPC campaign was rebuilt from the ground up, based on market and prospect intelligence gathered by WRD during collaborative sessions with key Fujifilm stakeholders.
The scope of the new PCC campaigns was significantly more focussed in order to avoid budget wastage on irrelevant advertising clicks, and WRD worked with Fujifilm to design, develop, optimise and launch campaign landing pages that delivered excellent conversion rates across multiple channels. WRD also built and launched localised and translated PPC campaigns across a number of European countries in order to generate in-country leads and audience engagement
Campaign performance metrics increased significantly, including higher click through rates, lower cost per click costs, increased conversion rates, improved ad positions and lowered cost per acquisition.
WRD also create and manage Remarketing ad campaigns focussing on users to prime Fujifilm digital platforms (e.g. landing pages, websites), demographically targeted social media advertising campaigns and Display campaigns across a wide range of third party websites.
Results
As a result of the range of activities and approaches outlined above, the Graphics Systems sales pipeline has grown very significantly, with marketing qualified leads being passed to the regional sales teams in much higher numbers than ever before.
This had initially caused Fujifilm some minor issues (e.g. having more qualified leads than the sales teams could actually service), however by working with Fujifilm and their technical CRM & Salesforce suppliers, and with the marketing team providing increased guidance to the sales teams on the entire marketing and sales process (from end to end), the process has bedded in and WRD are now engaging directly with the entire Fujifilm Asia Pacific region to roll out replicated digital campaign activity and support based on a direct recommendation to the Asia Pacific Head of Marketing from Fujifilm EU.
---
What Our Clients Say
"Over the last couple of years, Web Results Direct have increasingly become invaluable in implementing a multi-national, multi-company digital transformation. Initially contracted to assist with SEO and develop an additional website to cover a growing product offering. Now
WRD are an integral part of global campaigning, providing advice at all points from planning through implementation to analysis
. Most recently, developing and managing multiple paid advertising campaigns, in over 10 languages, across a variety of platforms and providing us with ongoing analysis in order to get the most out of our efforts. We view the team at WRD as an extension of our own"
"Working with you all has been a great experience and we've learned so much.
Together we grew our UK business and demonstrated to the Group enough confidence for them to authorise a significant acquisition
- this is a huge achievement and your part in this should not be under stated"
"We hired Web Results Direct initially to look after SEO for our website, and at the end of the first year,
we celebrated our best year ever for web sales
. We then gave them responsibility for our PPC campaigns – a tall order given the high targets we needed to achieve. However, they not only hit the target, but exceeded it, delivering a 38% increase in average ROI for the year."
"I'm writing to tell you how pleased I am with the service you're giving UPS Systems PLC. When you first pushed up our PPC results, we were pleased. We were even happier when you saw a couple of opportunities for us to improve them. So much happier, in fact, that we gave you responsibility for our organic search optimisation too. That also improved substantially, and you've recently made suggestions based on more new opportunities which are paying off again. Your quarterly reports aren't just regurgitated screenshots but show you've thought carefully about our visitor results before mailing us.
You unfailingly make a follow-up call to check that your perceptions make sense to us and that we understand the changing web marketing landscape.
I was pleased to be able to recommend your services to an acquaintance recently. I told her that WRD is our most professionally run services supplier. That's not just my view – it's the view of our whole senior management team. Please keep up the good work!"
"I've worked with Web Results Direct now for some 12 years and
they have been nothing but exemplary the whole time!
My brief for our internet marketing partner is quite straight forward. I require a company that works efficiently and ethically for the long term gain and that breaks all the jargon surrounding it into layman's terms with clear and concise reporting. Web Results Direct fulfill this brief perfectly! "
"We had an opportunity from a website enquiry confirm yesterday - worth £xxK. We've no doubt that
this is down to your management and refinement of our SEO and PPC
. Thank you!"
"I have to say, you guys have done an
amazing job with our SEO
. We are very satisfied with all your work. It's so refreshing working with an agency that totally understand what we do."